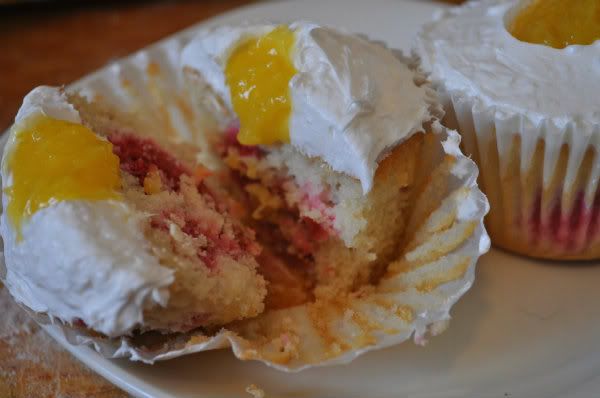 Today at work, someone told me I made them the best cappuccino they had ever had.
Cappuccinos are the fanciest and most particular of expresso drinks, so I was pretty flattered. I knew at that moment that this day was meant for success.
So I immediately entered my kitchen, and success followed me. I made these perfect cupcakes. They are tangy and sweet and, really, the stuff that dreams are made of.
These remind me of raspberry lemonade. Except better. Mostly because I don't like lemonade all that much.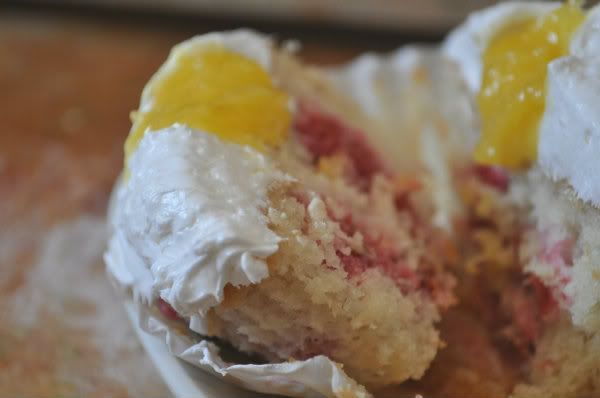 -FOR THE CAKE-
18 tablespoons (2 sticks plus 2 tablespoons) unsalted butter, room temperature
1 1/2 cups milk
9 large egg whites, lightly beaten
1 tablespoon pure vanilla extract
1/2 teaspoon almond extract
2 tablespoons baking powder
1 1/2 teaspoons salt
2 1/4 cups sugar
4 1/2 cups flour (plus about 2 tablespoons to toss the berries in)
1 pint raspberries
Preheat oven to 350 degrees. Place cupcake papers into cupcake pan, set aside.
In a medium bowl, stir together, milk, egg whites, and extracts. Into a second medium bowl, sift together the flour, baking powder, and salt; set aside.


In the bowl of an electric mixer fitted with the paddle attachment, beat the butter on medium speed for 30 seconds. With machine running, gradually add the sugar. Continue beating until light and fluffy, about 2 minutes. Scrape down sides of bowl as necessary.


Add one-third of the flour mixture and one-third of the milk mixture, and beat on low speed until just incorporated. Add remaining flour and milk mixtures in 2 separate batches beating between additions to fully incorporate. Scrape down sides of bowl. Toss the berries lightly in flour and mixx gently into the batter.


Put one heaping spoonful in each cupcake paper, or about halfway full. Bake for about 25 to 30 minutes, until a toothpick comes out clean when inserted into the middle of the cupcake.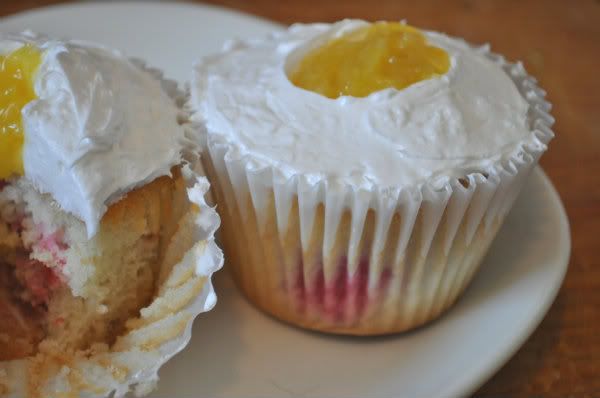 You should host a picnic for all your friends. And you should make these. And watch as your popularity soars. You're welcome.