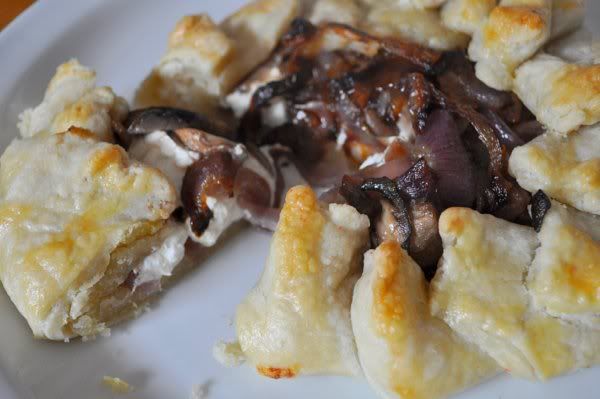 Sometimes, when life is all thrown out of order, you need to go back to the most basic things that make you happy. In my case, that means flaky crust and creamy cheese - more specifically, delicious chevre.
This thing is amazing. Flaky, gooey, savory - just perfect. I am usually not a stickler about making crust from scratch. I get it, you're a busy person. Bills to pay, coffee to drink, etc.

But just this once, I insist. Go on, make a huge floury mess of your entire kitchen. It will all be worth it in the end.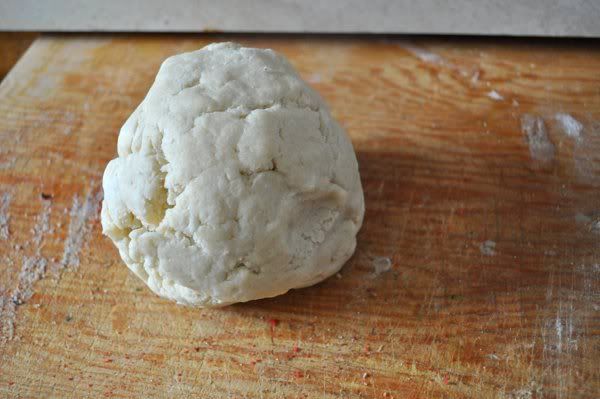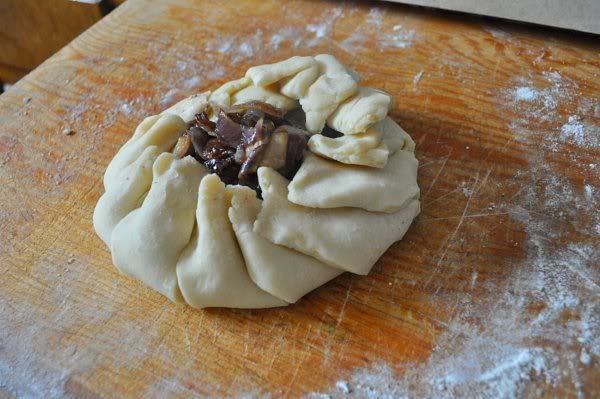 2 1/2 cups all-purpose flour
1 teaspoon salt
1 teaspoon sugar
1 cup (2 sticks) unsalted butter, chilled and cubed
½ cup ice water
2 cups Portabella mushrooms, diced
2 small red onions, sliced
¾ cup, or 4 oz., of goat cheese
¼ cup of olive oil
¼ cup butter
¼ cup cooking sherry salt and pepper to taste
egg wash (1 beaten egg)
the crust
In a stand mixer or food processor, combine flour, salt, and sugar. Add cubed butter, and mix until the mixture resembles coarse meal.
Add ice water in a slow, steady stream while mixer or processor is on. Pulse until dough just holds together, no longer. If you grab a pinch and squeeze and the dough comes together smoothly, not in a crumbly way, you'll know it is ready.
Divide dough into two equal balls. Flatten each ball into a disc and wrap in plastic. Chill in the refrigerator for about an hour.
the filling
In a sauté pan, heat ¼ cup of olive oil and add onions and season with a pinch salt and pepper. On medium- high heat, cook onions down until caramelized. Remove caramelized onions from sauté pan and set aside.
Add chopped mushrooms to the pan and cook down until soft. Pour the sherry into the pan and deglaze. Let liquid reduce then remove mushrooms from pan and set aside.
To prepare the galette for baking, roll out the pastry to ¼ of an inch thick. Transfer round to a greased pan. Crumble goat cheese in the center, followed by the mushrooms and onions leaving 1 inch of pastry around the sides without filling. Cut slits all the way around, getting no closer than ½ inch to the filling. Fold diagonally over each other.
Brush on egg wash to the exposed pastry sides. Bake at 375 degrees for 25 – 30 minutes or until pastry is golden brown.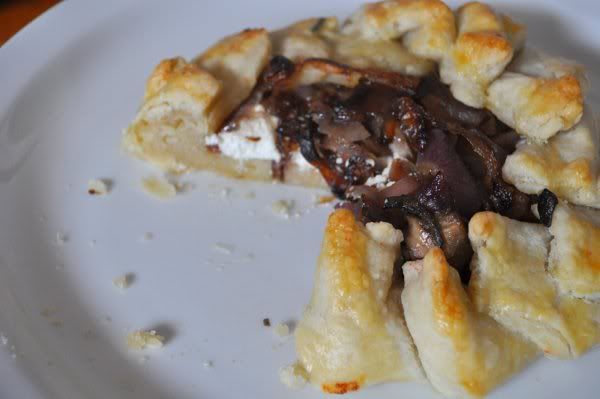 This guy is perfect to serve as an appetizer to about 4 people. But don't let the picture with one slice missing deceive you. I ate this entire thing. In short order.
What foods make you happy?