Dearly Beloved, we are gathered here today to celebrate the union of a Snickers Bar and homemade chocolate chip cookie dough.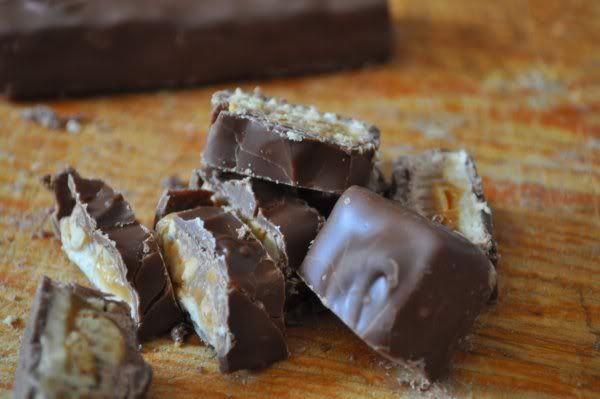 I'm not gonna go through the whole schpeal, you get the point. I put Snickers Bars inside of chocolate chip cookies.
It is amazing. It is beautiful. These are definitely soul mates.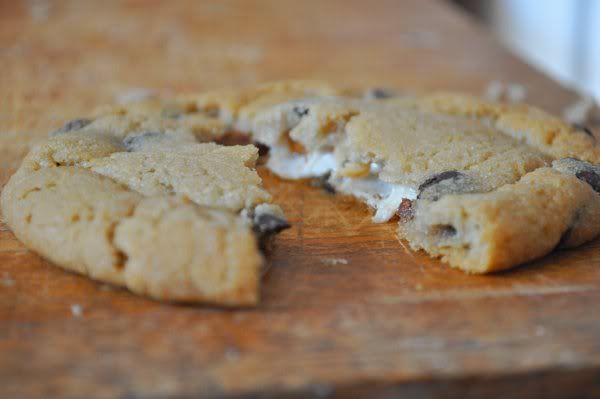 1 cup salted butter, softened
1/2 cup sugar
1 1/2 cup packed brown sugar
2 eggs
2 tsp. vanilla extract
2 3/4 cups (12 oz) all-purpose flour *If at all possible, please weigh the flour
3/4 tsp. smallish-medium coarse sea salt
1 tsp. baking soda
1 1/2 tsp. baking powder
2 1/4 cups semi-sweet chocolate chips
2 Snickers Bars
Preheat oven to 360 degrees.

Cut Snickers Bar into 3/4" slices.

Cream butter, sugar, and brown sugar until it is nice and fluffy. Add both eggs and vanilla and beat for an additional 2 minutes. Add baking soda, baking powder, salt, and flour until cookie batter is fully incorporated.

Finally add chocolate chips until well distributed. The cookie batter should be somewhat thick.
Form 2 inch wide balls of dough, press into it with your finger, and add sliced snickers bar piece. Close dough back around the Snickers Bar piece and form back into a ball. Put onto the greased cookie sheet 2" apart from each other.

Bake for 12-14 minutes until the edges are nice and golden brown. Remove from heat and allow the cookies to stay on the cookie sheet for an additional 2 minutes.

Eat them. Eat them all.