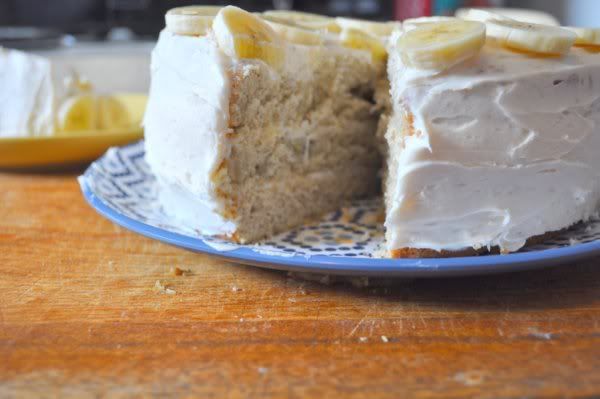 Guys, I made banana cake. On a whim. For no reason other than I just needed some cake.
Don't judge me.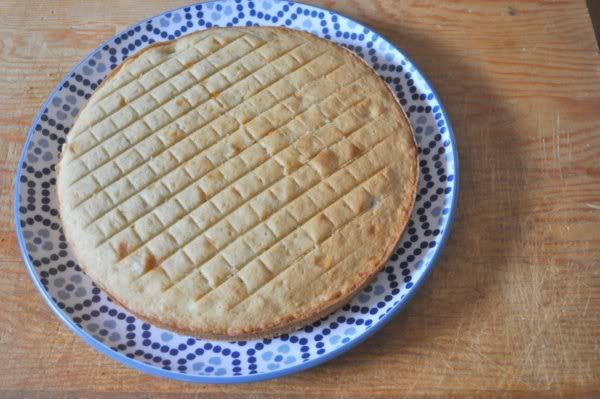 Just kidding, I know you wouldn't judge me. You love cake for breakfast as much as I do. That's why we're friends.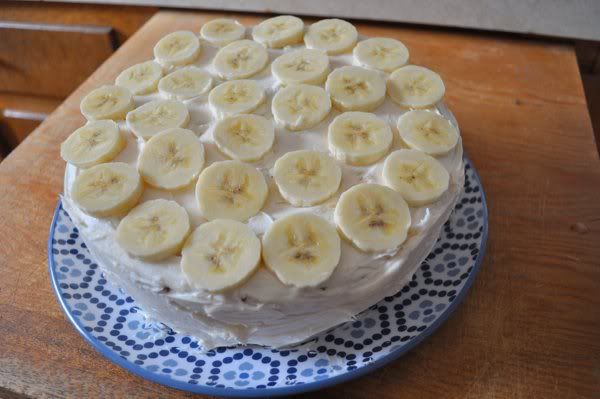 This cake is moist, sweet, and amazing. Other than the delicious cream cheese frosting and fluffy banana cake, the sliced bananas on top are key.
Let's get down to business, shall we? Here is the recipe, pretties.
INGREDIENTS
Yields 4 thin 9" layers or two large
3/4 cup butter
1 1/2 cups white sugar
3 eggs
1 teaspoon vanilla extract
3/4 cup buttermilk or other sour milk
1 cup mashed bananas
2 1/2 cups all-purpose flour
1/2 teaspoon salt
1/2 teaspoon baking soda
1 teaspoon baking powder
DIRECTIONS
In a large bowl, mix together butter or margarine, sugar, eggs and vanilla. Set aside.
In another bowl, sift together flour, salt, soda, and baking powder. Add these dry ingredients to the creamed mixture. Add sour milk and bananas to the batter. Beat together well.
Grease two 9" round pans. Bake at 350 degrees F (175 degrees C) for 17 to 20 minutes for the layered cakes. If you want to do a 9x13" sheet cake instead, bake for 25 to 40 minutes.
PS: In attempts to write 'banana cake' in a message to my friend, I kept writing bana cake. So, this cake is officially being called the Eric Bana Cake. It seems the most logical solution.
Have a fantastic day, you beauties, you.