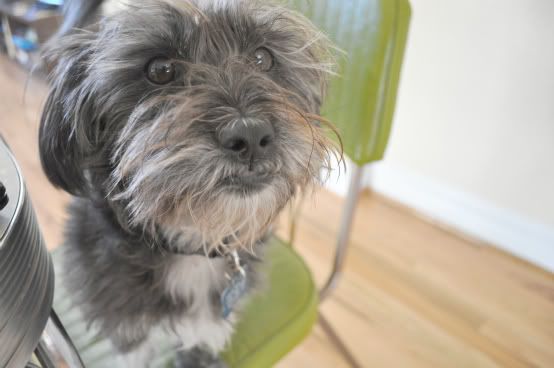 I can't believe it. My baby. My little boy. The love of my life is 5 years old today. I'm so grateful to have this little guy in my life! There's no explaining how great it is to come home and have someone so excited to see you every time.
In celebration Oscar's birthday, in addition to the gigantic bone I gave him which he has been ignoring me for all day, I'm going to share my two favorite dog treat recipes with you. One of them has salmon in it - which is a huge hit - and the other is made with no meat at all.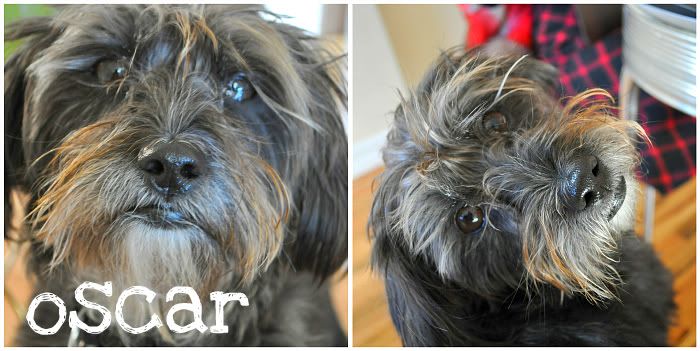 Pacific Salmon Snaps
1 8 ounce can salmon with juice
½ cup chopped fresh parsley (or 1 tsp dried)
1 tsp dill weed
3 eggs -- shells included
½ cup sesame seeds ground up in coffee grinder or food processor
½ cup flax seeds ground up in coffee grinder or food processor
2 (or more) cups whole wheat flour - I usually end up using 2 ½
Preheat oven to 375°F.
Put all ingredients into a food processor and mix very well. Note: Pour flour through the opening while the processor or mixer is on. Use enough flour to make the dough about the consistency of a pie crust (it will roll into a ball - once it does, it's ready to remove.)
Place on a floured surface and knead more flour into dough until it is easily rolled out. Roll out to about ¼" thick. Cut into shapes with a cookie cutter. Poke each cookie with a fork once or twice, so that cookies will not puff up.
Bake for 20 minutes on cookie sheets that have a nonstick spray coating. Turn and rotate cookie sheets, then bake about 10 more minutes.
Apple Cinnamon Drops
1 large apple
¼ cup honey
½ cup of water
½ teaspoon cinnamon
1 cup oatmeal
1 ½ cups whole wheat flour
⅛ cup whole wheat flour
Preheat oven to 350 ° F.
Core, slice and mince the apple (use a food processor if you have one). In a large bowl, combine the minced apple bits, honey, water, cinnamon, and oatmeal. Gradually blend in the wheat flour, adding enough to form a stiff dough.
In a small bowl, add 1/8 cup wheat flour. Spoon the dough by rounded teaspoon onto ungreased baking sheets, spacing about 2 inches (5cm) apart. Using the bottom of a glass dipped in the wheat flour (to prevent sticking), flatten each spoonful of dough into a circle. Adjust the size of the drops based on how big a treat you like to feed your dog.
Bake for 30 minutes. Remove from oven and flip each cookie to brown evenly on both sides. Reduce oven temperature to 325 ° F. Return to oven and bake for an additional 30 minutes. Let cool overnight.